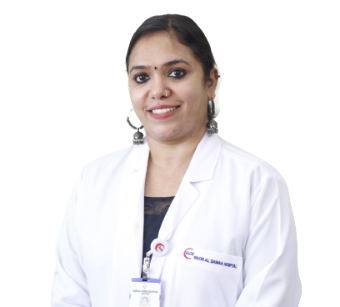 Ms Sree Parvathy B Nair
Dietician
Dietetics
MSc, PGDND
18 years of experience
Al Khoud (Oman)
About Ms Sree Parvathy B Nair
Sree Parvathy B Nair is experienced in the regulation of diet and human nutrition in both community and clinical settings. She is committed to ensure the safety and wellness of patients by following proper nutrition methods and guidelines.
She is a Life Member of Indian Dietetic Association and a member of the Saudi Commission for Health Specialist Registered Dietician.

Excellence & Experience
Area of excellence
Endocrinology, Oncology, Nephrology, Geriatrics, Gastroenterology, Adult and Pediatric Cardiology, Bariatric surgery, Dialysis Unit, Liver and Kidney Transplant Unit and Enteral nutrition.
Level of Experience
She has worked with prestigious institutions in India and Saudi Arabia before joining Badr Al Samaa Group of Hospitals.
Awards & Academics
List of awards
Published Nutrition and diet related articles in various magazines.
Published an article in Indian Journal of Pediatrics (Nutritional recovery after corrective surgery children with congenital heart diseases.
Academics Details
MSC; Avinashilingam Deemed University, Coimbatore, Tamilnadu, India (2002
PG Diploma in Nutrition and Dietetics; Avinashilingam Deemed University, Coimbatore, Tamilnadu, India (2003)
Out Patient Timings
The outpatient timings at Badr Al Samaa Hospitals have been planned in such a way that your choice of doctor is available whenever you are free.
Sunday
8:00 AM - 1:00 PM
Al Khoud - Oman
4:00 PM - 9:00 PM
Al Khoud - Oman
Monday
8:00 AM - 1:00 PM
Al Khoud - Oman
4:00 PM - 9:00 PM
Al Khoud - Oman
Tuesday
8:00 AM - 1:00 PM
Al Khoud - Oman
4:00 PM - 9:00 PM
Al Khoud - Oman
Wednesday
8:00 AM - 1:00 PM
Al Khoud - Oman
4:00 PM - 9:00 PM
Al Khoud - Oman
Thursday
8:00 AM - 1:00 PM
Al Khoud - Oman
4:00 PM - 9:00 PM
Al Khoud - Oman
Friday
Saturday
8:00 AM - 1:00 PM
Al Khoud - Oman
4:00 PM - 9:00 PM
Al Khoud - Oman