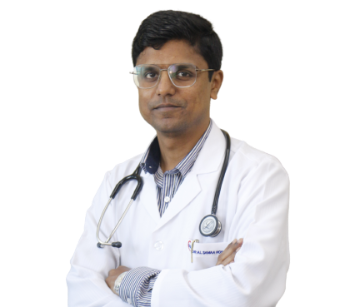 Dr Puneeth U M
Specialist Neurologist
Neurology
MD (Internal Medicine), DM (Neurology)
7 years of experience
Al Khoud (Oman)
About Dr Puneeth U M
Dr. Puneeth is a Specialist Neurologist with experience in practicing Neurology and postgraduate teaching in a tertiary medical college in India. He has received Neurology training from a premier institute in India. He has managed patients with various Neurological conditions including Stroke, Headache, Seizure/Epilepsy, Parkinson's disease, dystonia, Neuropathies, Dementia, Multiple sclerosis and Myasthenia etc. He has research publications in National and International journals. He is committed to providing comprehensive care to patients with neurological illnesses. 
He is a member of Indian Academy of Neurology (IAN), Indian Epilepsy Society (IES) and World Stroke Organization (WSO)

Excellence & Experience
Area of excellence
Stroke
Headache
Epilepsy
Movement Disorders
Neuropathies
Chronic Pain
CNS Demyelinating Disorders (MS, NMO and MOG)
Level of Experience
Dr Puneeth U M has worked as Assistant Professor / Consultant Neurology in Justice KS Hegde Medical Academy and Charitable hospital.
Awards & Academics
Academics Details
MBBS; JJN Medical College, Davangere, Karnataka, India (2010)
MD (General Medicine), GMC, Kota, Rajasthan, India (2015)
DM (Neurology); All India Institute of Medical Sciences, New Delhi, India (2018)
Out Patient Timings
The outpatient timings at Badr Al Samaa Hospitals have been planned in such a way that your choice of doctor is available whenever you are free.
Sunday
9:00 AM - 1:00 PM
Al Khoud - Oman
5:00 PM - 1:00 PM
Al Khoud - Oman
Monday
9:00 AM - 1:00 PM
Al Khoud - Oman
5:00 PM - 1:00 PM
Al Khoud - Oman
Tuesday
9:00 PM - 1:00 PM
Al Khoud - Oman
5:00 PM - 1:00 PM
Al Khoud - Oman
Wednesday
9:00 AM - 1:00 PM
Al Khoud - Oman
5:00 PM - 1:00 PM
Al Khoud - Oman
Thursday
9:00 AM - 1:00 PM
Al Khoud - Oman
5:00 PM - 1:00 PM
Al Khoud - Oman
Friday
Saturday
9:00 AM - 1:00 PM
Al Khoud - Oman
5:00 PM - 1:00 PM
Al Khoud - Oman