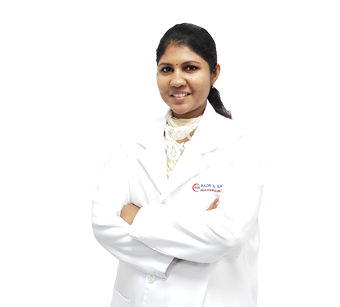 Dr Lakshmi V
Specialist Dermatologist
Dermatology
MBBS, MD ( Dermatology)
9 years of experience
Al Khoud (Oman), Mabella (Oman)
About Dr Lakshmi V
Dr Lakshmy is a specialist Dermatologist having more than 5 years of experience. She is specialized in clinical dermatology, aesthetic dermatology and venereology. She has undergone comprehensive training in general dermatology, cosmetology and dermatosurgery during the course of her training. She is also an expert in cosmetic procedures like skin biopsy, removal of moles, corns, and benign skin tumours, nail surgeries, ear lobe repair, vitiligo surgeries, electrocautery, radiosurgery, cryotherapy and Botox for wrinkles. She is very experienced in treating patients with excessive sweating of palms, soles and axilla, mesotherapy, chemical peeling, dermaroller therapy, PRP, microdermabrasion, hydrafacial, dermaplaning, lasers, etc.

Excellence & Experience
Area of excellence
Dermatosurgery
Clinical dermatology
Cosmetology
Level of Experience
Dermatologist – Taluk Hospital, Kundara, Govt Health Services Dept, Kerala, India
Awards & Academics
List of awards
Dr Lakshmy won Gold Medal in 7th Dermatology National Amala Gold Medal Exam, 2012
Third place in the Torrent Young Scholar Award 2012, Dermatology - National level competition held at Ahmedabad
Third Place Dr H C Mohanty Quiz competition, National level, conducted by Indian Association for the study of Sexually Transmitted Diseases & AIDS held at Kochi, 2012
Second place Indian Association of Dermatologists, Venereologists & Leprologists – GSK Quiz Competition, state level, 2012
Academics Details
MBBS – Government T.D. Medical College, Allepey, Kerala, India – 2008
MD – Government Medical College, Kottayam, Kerala, India - 2013
Out Patient Timings
The outpatient timings at Badr Al Samaa Hospitals have been planned in such a way that your choice of doctor is available whenever you are free.
Sunday
9:00 AM - 1:00 PM
Mabella - Oman
5:00 PM - 9:00 PM
Al Khoud - Oman
Monday
9:00 AM - 1:00 PM
Mabella - Oman
5:00 PM - 9:00 PM
Al Khoud - Oman
Tuesday
9:00 AM - 1:00 PM
Mabella - Oman
5:00 PM - 9:00 PM
Al Khoud - Oman
Wednesday
9:00 AM - 1:00 PM
Mabella - Oman
5:00 PM - 9:00 PM
Al Khoud - Oman
Thursday
9:00 AM - 1:00 PM
Mabella - Oman
5:00 PM - 9:00 PM
Al Khoud - Oman
Friday
Saturday
9:00 AM - 1:00 PM
Mabella - Oman
5:00 PM - 9:00 PM
Al Khoud - Oman