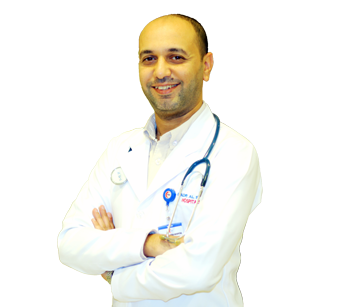 DR AHMED MAHMOOD ELSEHEMY
Specialist Pediatrician
Paediatrics & Neonatology
MBChB, MD(Paediatrics)
13 years of experience
Al Khoud (Oman)
About DR AHMED MAHMOOD ELSEHEMY
Dr Ahmed Mahmoud Elsehemy is a Specialist Paediatrician with wide ranging clinical experience spanning over 10 years. His vast exposure to paediatric and neonatology cases makes him a brilliant doctor with a lot of expertise garnered over the course of his exposure in Egypt and KSA. He is an expert in managing emergency cases such as febrile convulsion, fits, DKA, Dehydration, exacerbation of bacterial infections, etc. He is also skilled in Neonatal resuscitation, examination of neonatal reflex, resuscitation of babies with meconium aspiration, endotracheal tube insertion, RD any grade, neonatal jaundice, mechanical ventilation, etc. He communicates well with worried parents too.

Excellence & Experience
Area of excellence
Paediatric emergency
Paediatric infections
Paediatric follow up in the clinic
Neonatal resuscitation
Neonatal problems
Level of Experience
Dr Ahmed has served in various hospitals in Egypt and KSA including 57357 Hospital CCHE, Cairo, Egypt and Aladwani General Hospital, Taif, KSA
Awards & Academics
Academics Details
MD (Paediatrics) - Faculty of Medicine, Banha University,Egypt - 2011
MBBS - Faculty of Medicine Banha University, Egypt - 2004
Out Patient Timings
The outpatient timings at Badr Al Samaa Hospitals have been planned in such a way that your choice of doctor is available whenever you are free.
Sunday
8:00 AM - 4:00 PM
Al Khoud - Oman
Monday
8:00 AM - 4:00 PM
Al Khoud - Oman
Tuesday
8:00 AM - 4:00 PM
Al Khoud - Oman
Wednesday
8:00 AM - 4:00 PM
Al Khoud - Oman
Thursday
8:00 AM - 4:00 PM
Al Khoud - Oman
Friday
Saturday
8:00 AM - 4:00 PM
Al Khoud - Oman