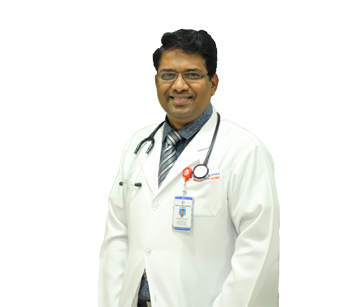 Dr GURURAJ KULKARNI
Chief General Surgeon
General & Laparoscopic Surgery
MBBS, MS, DNB, FMAS, FIGS, FELLOWSHIP IN GI SURGERY
24 years of experience
Al Khoud (Oman)
About Dr GURURAJ KULKARNI
Dr Gururaj K Kulkarni is a highly-respected surgeon of great repute. He has had extensive training and has acquired an impressive number of qualifications along the way too. He is capable of handling all types of emergencies, accidents & polytrauma cases. His area of interest lies in gastric surgeries and he has expertise in an extensive list of GI-related surgeries. He performs both open and laparoscopic surgeries with equal flair and is the best doctor for all types of gastric complications. Upper GI endoscopies, colonoscopies, and endoscopic biopsies are also part of his daily routine.
Excellence & Experience
Area of excellence
Diagnostic laparoscopy
Laparoscopic adhesiolysis
Laparoscopic appendicectomy
Laparoscopic cholecystectomy
Laparoscopic intestinal obstruction release
Laparoscopic sterilisation
Laparoscopic ovarian cystectomy
Laparoscopic inguinal hernia repair
Laparoscopic incisional hernia repair
Laparoscopic fundoplication
Laparoscopic varicocele clipping
Laparoscopic CBD exploration
Total Laparoscopic hysterectomy
Laparoscopic management of undescended testis
Laparoscopic rectopexy
Minor excision of lumps and swellings
Abscess drainage
Haemorrhoidectomy
Fistulectomy
Fistulectomy
Cholecystectomy
Appendicectomy
Thyroidectomy
Mastectomy
Varicose vein stripping
Lumbar sympathectomy CBD exploration
All intestinal resections and anastomoses
Colostomy
Hernia repair – inguinal,femoral,incisional
Vagotomy
Gastrojejunostomy
Adrenalectomy
Gastrectomy
Level of Experience
Assistant Professor - Department of General Surgery in SDM College of Medical Sciences and Hospital, Dharwad, India for one year - 2006 to 2007
Worked in a Muthoot Medical Centre super-speciality hospital in Kerala, India and got training in laparoscopic surgery - Aug 2005 to Aug 2006
Worked in Super Speciality Departments like Paediatric Surgery, Plastic Surgery, NeuroSurgery, Urology, and Cardiothoracic Surgery - 2003 to 2004
Fellowship course - Dept of surgical gastroenterology - Andhra Hospital Vijayawada, Andhra Pradesh, India
Training in Neurosurgery at NIMHANS (National Institute of Mental Health and Neurosciences) Bangalore, India
Training in Surgical Oncology at KMIO (Kidwai Memorial Institute of Oncology) Bangalore, India - 2004
Worked in "Belgaum Critical Care Centre" Belgaum, India, for one year and had experience in emergency medical case management - 1999 to 2000
Awards & Academics
Academics Details
FMAS (fellowship in minimal access surgery) - AMAS India
Fellowship in surgical gastroenterology (Fellow SGE) Vijayawada AP. India
DNB (General Surgery) Diplomate of National Board New Delhi India
MS (General Surgery) - Government Medical College and research institute, Mysore University: RGUHS, Bangalore, Indi
MBBS - Jawaharlal Nehru Medical College, Belgaum, University: Karnataka University, Dharwad, India
Out Patient Timings
The outpatient timings at Badr Al Samaa Hospitals have been planned in such a way that your choice of doctor is available whenever you are free.
Sunday
9:00 AM - 1:00 PM
Al Khoud - Oman
5:00 PM - 9:00 PM
Al Khoud - Oman
Monday
9:00 AM - 1:00 PM
Al Khoud - Oman
5:00 PM - 9:00 PM
Al Khoud - Oman
Tuesday
9:00 AM - 1:00 PM
Al Khoud - Oman
5:00 PM - 9:00 PM
Al Khoud - Oman
Wednesday
9:00 AM - 1:00 PM
Al Khoud - Oman
5:00 PM - 9:00 PM
Al Khoud - Oman
Thursday
9:00 AM - 1:00 PM
Al Khoud - Oman
5:00 PM - 9:00 PM
Al Khoud - Oman
Friday
9:00 AM - 1:00 PM
Al Khoud - Oman
Saturday
5:00 PM - 9:00 PM
Al Khoud - Oman