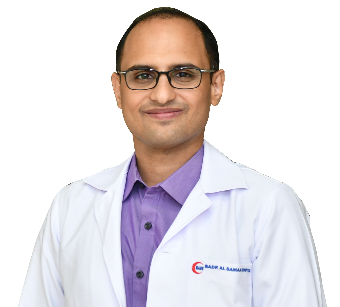 DR ASHOK ANTONY
Specialist Psychiatrist
Psychiatry
MBBS, MS
Al Khoud (Oman)
About DR ASHOK ANTONY
'Brain is the seat of Mind' and 'Every behavior has its anatomy' were the two main tenants under which Dr. Ashok Antony was trained in the field of Neuro-Psychiatry. He has experience in Pharmacological and Non-Pharmacological management of a wide spectrum of disorders including Dementia associated behavioral problems, Substance Use Disorders, Schizophrenia, Mood Disorders, Anxiety Disorders, Somatization Disorder, Sleep disorders and Childhood behavioral problems. He has also undergone special training in the care of Geriatric patients at the prestigious Christian Medical College, Vellore for which he was awarded Post Graduate Diploma in Geriatrics.

Excellence & Experience
Area of excellence
Psycho - somatic & Anxiety Disorders
General Adult Psychiatry
Child and Adolescent Psychiatry
Anxiety Disorders
Sleep Disorders
Addiction Psychiatry
Geriatric Psychiatry
Trans-Cultural Psychiatry
Level of Experience
Senior Resident in Psychiatry, 2014 to 2015, Government Medical College, Kottayam
Assistant Professor in Psychiatry, 2015 to 2019, Sree Narayana Institute of Medical Sciences, Ernakulam
Awards & Academics
List of awards
Poster presentation at ANCIPS 2012 (National Conference) at Kochi, Kerala, India
Award paper presentation at SIPSCON 2013 (State Conference) at Palakkad, Kerala, India. Was awarded Second position
Paper presentation at IPSOCON 2013 (South Zone Conference) at Kottayam, Kerala, India
Symposium at World Psychiatric Association Asian Regional Congress 2015
Speaker on the topic 'Internet Addiction' in SIPSCON 2016 ( State Conference), Kozhikode, Kerala
Speaker in Live Phone In program 'Parasparam' –about mental health issues broadcasted by All India Radio Kochi FM
Speaker on the topic 'Insurance in Mental Illness' at IPSOCON 2018 (South Zone Conference) at Tirupathi, Andra Pradesh
Highest in Academics in the Post Graduate Diploma in Geriatrics awarded by Christian Medical College, Vellore
Academics Details
MD (Psychiatry) – Government Medical College, Kottayam, Kerala, 2014
MBBS – Malankara Orthodox Syrian Church Medical College, Kolenchery, 2008
Out Patient Timings
The outpatient timings at Badr Al Samaa Hospitals have been planned in such a way that your choice of doctor is available whenever you are free.
Sunday
9:00 AM - 1:00 PM
Al Khoud - Oman
5:00 PM - 9:00 PM
Al Khoud - Oman
Monday
9:00 PM - 1:00 PM
Al Khoud - Oman
5:00 PM - 9:00 PM
Al Khoud - Oman
Tuesday
9:00 PM - 1:00 PM
Al Khoud - Oman
5:00 PM - 9:00 PM
Al Khoud - Oman
Wednesday
9:00 PM - 1:00 PM
Al Khoud - Oman
5:00 PM - 9:00 PM
Al Khoud - Oman
Thursday
9:00 PM - 1:00 PM
Al Khoud - Oman
5:00 PM - 9:00 PM
Al Khoud - Oman
Friday
Saturday
9:00 PM - 1:00 PM
Al Khoud - Oman
5:00 PM - 9:00 PM
Al Khoud - Oman