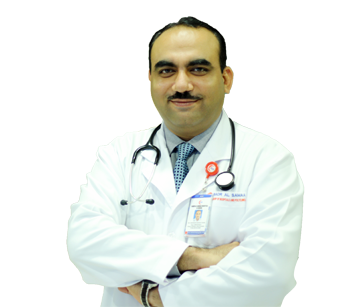 Dr Sikandar Bakhat Khan
General Practitioner
General Practice
MBBS
17 years of experience
Al Khoud (Oman)
About Dr Sikandar Bakhat Khan
Dr Sikandar Bakhat Khan is a highly experienced General Practitioner having trained and worked in esteemed institutions in Pakistan. He is well versed in General Medicine and handles both adult and paediatric patients. He manages and follows up on patients with chronic conditions that need regular monitoring. His experience in medical and surgical training come to good use in the emergency section of the hospital where he has special interest in dealing with patients in acute conditions. He is excellent in making quick diagnosis and providing timely dispensing of treatment modules. Dr Sikandar Bakhat Khan regularly attends CMEs and workshops to keep him updated.
Excellence & Experience
Area of excellence
Diabetes
Hypertension
Allergies
Asthma
Women and child health
Emergency & Critical Care medicine
Level of Experience
More than 13 years of experience in Emergency & General OPD, with 8 years of experience in the Gulf countries.
Awards & Academics
Academics Details
MBBS – King Edward Medical College, Lahore, Pakistan - 2005
Out Patient Timings
The outpatient timings at Badr Al Samaa Hospitals have been planned in such a way that your choice of doctor is available whenever you are free.
Sunday
4:00 PM - 12:00 AM
Al Khoud - Oman
Monday
4:00 PM - 12:00 AM
Al Khoud - Oman
Tuesday
4:00 PM - 12:00 AM
Al Khoud - Oman
Wednesday
4:00 PM - 12:00 AM
Al Khoud - Oman
Thursday
4:00 PM - 12:00 AM
Al Khoud - Oman
Friday
4:00 PM - 12:00 AM
Al Khoud - Oman
Saturday
4:00 PM - 12:00 AM
Al Khoud - Oman