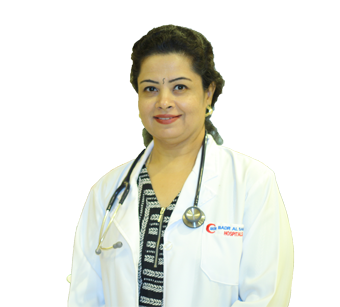 DR DEEPA RAGHAVAN
Specialist General Surgeon
General & Laparoscopic Surgery
MBBS, MS(General & Laparoscopic Surgeon)
22 years of experience
Al Khoud (Oman)
About DR DEEPA RAGHAVAN
Dr Deepa Raghavan is a highly experienced surgeon who brings with her a vast trove of surgical know-how. She has spent a great part of her profession in teaching positions in well-known medical colleges and hospitals. She has immense clinical expertise gained through her years practicing in India. She has great proficiency and expertise in performing both general and minimally invasive surgeries. Dr Deepa is also fully versed in laparoscopic and Endoscopic surgeries. She has attended a number of conferences and workshops and keeps her knowledge constantly updated. She is a major asset to the hospital.
Excellence & Experience
Area of excellence
Perform obstetric gynaecology procedures like normal delivery, caesarean sections, ovarian cystectomy, laparoscopic procedures like tubal insufflations, ovarian cyst puncture and tubectomy.
Laparoscopic surgerieslike appendectomy, cholecystectomy and adhesiolysis.
Endoscopy, colonoscopy and sigmoidoscopy.
Perform all major and minor procedures like excision biopsy, circumcision, thyroidectomy, mastectomy, hernioplasty, hemithyroidectomy, varicose veins surgery, inguinal herniotomy, herniorrhaphy, hernioplasty, breast lump excision, incisional hernia repair, amputation, hemorrhoidectomy, plastic surgeries like skin grafting and flaps.
Attend cases of abdominal emergencies, cut injuries and other traumatic injuries.
Perform minor OPD procedures
Level of Experience
Disperse OP cases
Consultant General Surgeon and Laparoscopic Surgeon in a private clinic
Consultant General Surgeon and Associate Professor - Department of General Surgery, Melmaruvathur Adhiparasakthi Institute of Medical Science, Melmaruvathur
Assistant Professor - Department of General Surgery, Vinayaka Missions Medical College and Hospital – 2007-2012
Consultant General Surgeon - Vinayaka Missions Hi-tech Hospital – 2007-2012
Internship - Government Rajaji General hospital, Madurai -2001
Regular ward, causality, ICU rounds.
Awards & Academics
Academics Details
MBBS - Madurai Medical College, Madurai, Tamil Nadu - 2001
Internship - Government Rajaji General Hospital, Madurai - 2001
MS - Government Rajaji General Hospital, Madurai - 2007
Out Patient Timings
The outpatient timings at Badr Al Samaa Hospitals have been planned in such a way that your choice of doctor is available whenever you are free.
Sunday
8:00 AM - 2:00 PM
Al Khoud - Oman
Monday
8:00 AM - 2:00 PM
Al Khoud - Oman
Tuesday
8:00 AM - 2:00 PM
Al Khoud - Oman
Wednesday
8:00 AM - 2:00 PM
Al Khoud - Oman
Thursday
8:00 AM - 2:00 PM
Al Khoud - Oman
Friday
Saturday
8:00 AM - 2:00 PM
Al Khoud - Oman