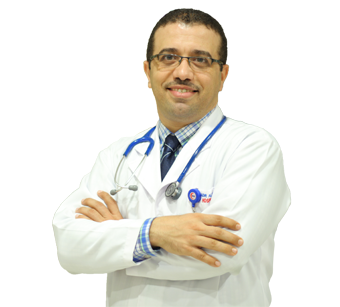 DR Mohammed KHALEEL MRAWEH AL ANI
Specialist Pediatrician
Paediatrics & Neonatology
MBChB, FIBMS
19 years of experience
Al Khoud (Oman)
About DR Mohammed KHALEEL MRAWEH AL ANI
Dr Mohammed Khaleel Mrawih is a Specialist Pediatrician with many years of diverse experience in his chosen field. He has experience in treating a variety of infectious diseases as well as offering timely treatments. He has great acumen and compassion when it comes to treating children with trauma. He is also efficient in treating children with abnormalities and as well as performing minor procedures including wound closures and suturing. Dr Mohammed Khaleel attends conferences and workshops regularly to keep himself updated in his field.
Excellence & Experience
Level of Experience
Senior Paediatrician, The Arabic Specialists Centre - 2011 - 2016
Senior Doctor / Pediatrics, Baiji General Hospital and Balad General Hospital - 2011 - 2016
Senior House Officer/ Board Student - Al Sulaymaniyah Teaching Hospital and Pediatrics Central Hospital - 2008 - 2011
Senior House Officer, Al-Madaen General Hospital - 2006 - 2008
G.P - Primary Health Care Center in Al-Hai - 2005 - 2006
Resident Doctor, Islamic Health Centre in Al-Mansour - 2004 - 2007
Resident Doctor, Iraqi Red Crescent Hospital - 2003 - 2004
Resident Doctor - Pediatrics Central Hospital and Al-Kindi General Hospital 2002 - 2005
Awards & Academics
Academics Details
Speciality - Pediatrics - Iraqi Council of Medical Specialties 2011
Bachelor of Medicine and Surgery - College of Medicine, University of Baghdad - 2002
Out Patient Timings
The outpatient timings at Badr Al Samaa Hospitals have been planned in such a way that your choice of doctor is available whenever you are free.
Sunday
9:00 AM - 1:00 PM
Al Khoud - Oman
5:00 PM - 9:00 PM
Al Khoud - Oman
Monday
9:00 AM - 1:00 PM
Al Khoud - Oman
5:00 PM - 9:00 PM
Al Khoud - Oman
Tuesday
9:00 AM - 1:00 PM
Al Khoud - Oman
5:00 PM - 9:00 PM
Al Khoud - Oman
Wednesday
9:00 AM - 1:00 PM
Al Khoud - Oman
5:00 PM - 9:00 PM
Al Khoud - Oman
Thursday
9:00 AM - 1:00 PM
Al Khoud - Oman
5:00 PM - 9:00 PM
Al Khoud - Oman
Friday
Saturday
9:00 AM - 1:00 PM
Al Khoud - Oman
5:00 PM - 9:00 PM
Al Khoud - Oman