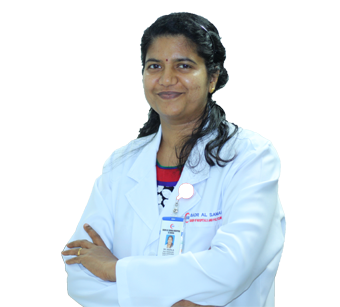 DR DEEPA. B
Specialist Radiologist
Radiology
MBBS, DMRD
21 years of experience
Al Khoud (Oman)
About DR DEEPA. B
Dr Deepa B Jyothis is an excellent Radiologist with Badr Al Samaa Hospital. She brings vast experience and knowledge into her practice. She is excellent at fetal ECHO scans to check for anomalies and is well-versed in ultrasound scans for high-risk obstetric cases. She is also experienced in follicular studies for infertility treatments and other gynecological cases. Her expertise covers interventional procedures like ultrasound and CT-guided biopsies. Dr Deepa continues to update her knowledge base by attending CMEs and conferences regularly.
Excellence & Experience
Area of excellence
Outpatient care including emergency management & inpatient rounds
Level III anomaly scan including Foetal echo
Neurosonogram in level III NICU set-up
All types of Gynaecology cases including follicular study
Ultrasound - obstetrics including high risk cases, abdomen, thyroid, breast etc
Doppler - arterial, venous, scrotal, obstetrics
Mammogram
Interventional procedures like ultrasound guided biopsy
Ultrasound
CT
Doppler
Level of Experience
Casualty Medical Officer and Consultant Radiologist, June 2006 - Aug 2006
Casualty Medical Office, June 2001- Nov 2002
Casualty Medical Officer, June 2003-Mar 2004
Casualty Medical Officer [including ICU management, Jan 2003-May 2003
Awards & Academics
Academics Details
MBBS - Govt. T.D. Medical College, Alappuzha, Kerala
DMRD - Calicut University, Calicut, Kerala
Specialist Training - DMRD. College of study - Govt. Medical College, Calicut, Kerala
Observation Training in MRI and CT scan - Sree Chithira Thirunal Institute of Medical Science and Technology, Thiruvananthapuram
Out Patient Timings
The outpatient timings at Badr Al Samaa Hospitals have been planned in such a way that your choice of doctor is available whenever you are free.
Sunday
9:00 AM - 1:00 PM
Al Khoud - Oman
5:00 PM - 9:00 PM
Al Khoud - Oman
Monday
9:00 AM - 1:00 PM
Al Khoud - Oman
5:00 PM - 9:00 PM
Al Khoud - Oman
Tuesday
9:00 AM - 1:00 PM
Al Khoud - Oman
5:00 PM - 9:00 PM
Al Khoud - Oman
Wednesday
9:00 AM - 1:00 PM
Al Khoud - Oman
5:00 PM - 9:00 PM
Al Khoud - Oman
Thursday
9:00 AM - 1:00 PM
Al Khoud - Oman
5:00 PM - 9:00 PM
Al Khoud - Oman
Friday
Saturday
9:00 AM - 1:00 PM
Al Khoud - Oman
5:00 PM - 9:00 PM
Al Khoud - Oman