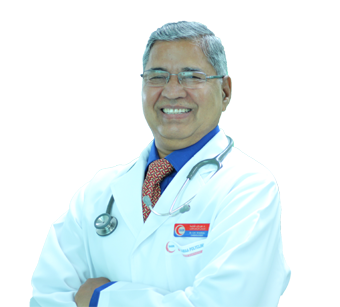 DR Shiv Narayan Sharma
Chief Cardiologist
Cardiology
MD, DM, FICC, FICP, FISE, FISAeM
46 years of experience
Al Khoud (Oman)
About DR Shiv Narayan Sharma
Dr Shiv Narayan Sharma's journey in the field of cardiac sciences cannot be summarised on paper. He has had a very rewarding career that has taken him across numerous prestigious institutions. He has immense clinical as well as teaching experience and is well-known for his large contribution towards significant research works. He has also attended conferences across the world and holds memberships of numerous prestigious bodies. Aside from earning his share of awards and medals, Dr Shiv attends and contributes towards numerous international conferences and is a part of many prestigious medical journals. Needless to say, he is an expert cardiologist.
Excellence & Experience
Level of Experience
Internship: RNT Medical College - 1974
House physician (Medicine): RNT Medical College - 1975
Squadron Medical Officer IAF: CHAF Bangalore and Bareilly -1978
Senior Resident Medicine: AFMC PUNE - 1980
Assistant Professor, Clinical Tutor and Classified Specialist: IAF - 1987
Senior Resident: DM (Cardiology): A.I.I.M.S New Delhi 1989
Associate Professor and Classified Specialist (Cardiology): Bangalore - 1994
Professor and Head of Cardiology: KIMS Bangalore - 1998
Consultant Cardiologist: Bangalore, Jaipur, Kerala (Private Hospitals) - 2007
Consultant Cardiologist: Badr Al Samaa Hospital, Muscat 2007-Till date
Awards & Academics
Academics Details
MBBS (1968 - 73) - RNT Medical College, Udaipur (Rajasthan). He received the "BEST STUDENT" title and was also awarded two gold medals.
MD (MEDICINE) (1978-80): Armed Forces Medical College, (AFMC), Pune.
DM (CARDIOLOGY) (1987-89): All India Institute of Medical Sciences(AIIMS), New Delhi
Out Patient Timings
The outpatient timings at Badr Al Samaa Hospitals have been planned in such a way that your choice of doctor is available whenever you are free.
Sunday
9:30 AM - 1:30 PM
Al Khoud - Oman
6:00 PM - 10:00 PM
Al Khoud - Oman
Monday
9:30 AM - 1:30 PM
Al Khoud - Oman
6:00 PM - 10:00 PM
Al Khoud - Oman
Tuesday
9:30 AM - 1:30 PM
Al Khoud - Oman
6:00 PM - 10:00 PM
Al Khoud - Oman
Wednesday
9:30 AM - 1:30 PM
Al Khoud - Oman
6:00 PM - 10:00 PM
Al Khoud - Oman
Thursday
9:30 AM - 1:30 PM
Al Khoud - Oman
6:00 PM - 10:00 PM
Al Khoud - Oman
Friday
Saturday
9:30 AM - 1:30 PM
Al Khoud - Oman
6:00 PM - 10:00 PM
Al Khoud - Oman